Already in a good shape and now looking for ways to spice up your wardrobe with masculine outfits? If you want to look sharp and stylish there are plenty of great outfit ideas out there to suit your tastes.
One of the great things about masculine outfits is that they're incredibly versatile. You can dress them up or down depending on the occasion, and there are plenty of different styles and trends to choose from.
Whether you prefer a classic look or something more edgy and modern, there's sure to be a style out there that suits your tastes. Let's dive in!
15 Tips for Masculine Outfits
Masculine outfits are clothing ensembles that exude confidence, power, and ruggedness. They are designed to make you look and feel like a true alpha male. So, check out what are some key features of masculine outfits.
1 The Fit
First and foremost, they are all about fit. A well-tailored suit, a perfectly fitting shirt, or a pair of jeans that hug your body in all the right places can make alle the difference. You want to avoid anything that is too baggy or too tight, as this can detract from the overall look and feel of your outfit.
2 Classic, timeless pieces
Another key element of masculine outfits is the use of classic, timeless pieces. Think leather jackets, denim jeans, and crisp white shirts. These items never go out of style and can be easily paired with other items in your wardrobe to create a variety of different looks.
3 Neutral tones
When it comes to colors, masculine outfits tend to stick to neutral tones such as black, gray, navy, and brown. These colors are versatile and can be worn in a variety of different settings, from the office to a night out on the town. For a pop of color, you can add a touch of red, green, or blue to your outfit, but be sure to keep it subtle.
4 Accessories
Accessories are the finishing touch to any masculine outfits. Keep it simple with a classic leather belt, a stylish watch, and a pair of sunglasses. A well-fitted hat can also add a touch of masculinity to your outfit. When it comes to shoes, stick to classic styles such as loafers, boots, and sneakers.
5 Quality over Quantity
In today's fashion landscape, acquiring trendy clothing has become faster, easier, and more affordable than ever. However, many fashion brands prioritize quantity over quality, churning out countless trendy styles with little regard for durability. Refuse to fall into this trap and instead opt for clothing of superior quality.
By choosing high-quality garments, you ensure that your wardrobe not only looks better but also withstands the test of time. Investing in well-crafted clothing pays off in terms of both style and longevity, enabling you to present yourself as a man with impeccable taste. And don't shop during sales. I bought so many clothes on sale and never wore them.
6 Simplicity
Simplicity exudes elegance and sophistication. Simple outfits are versatile and timeless, you can easy mix and match and saving time and effort when getting dressed. Plus, a focus on simplicity promotes a minimalist lifestyle, emphasizing quality over quantity and reducing clutter in both the wardrobe and the mind. Forget a print on your shirt, just a black shirt mixed with a dark jeans is a perfect simple outfit. By opting for simple outfits, you can achieve a refined and effortless style that exudes confidence and class.
7 Suits
Business clothing is one of my favorites. Suits are a timeless symbol of elegance, sophistication, and professionalism. They project a polished and put-together image, making a strong impression in both formal and professional settings. Suits are incredibly versatile, allowing for various combinations and styles to suit different occasions. Whether it's a business meeting, a wedding, or a formal event, a well-fitted suit can make you look sharp and confident. Additionally, wearing a suit does boost my self-confidence every single time.
8 Avoid Trends
While it may be tempting to chase the latest fashion trends in order to improve your wardrobe, it's actually a counterproductive approach. Avoiding trendy outfits with unconventional cuts, prints, and patterns that quickly go out of style is a wise choice. Such clothing tends to be of lower quality and lacks the elegant and refined look you desire.
Moreover, relying solely on trends will leave you feeling like you have nothing to wear as they change rapidly. Instead, opt for easily combinable pieces that allow you to create stylish, sophisticated, and masculine outfits that stand the test of time.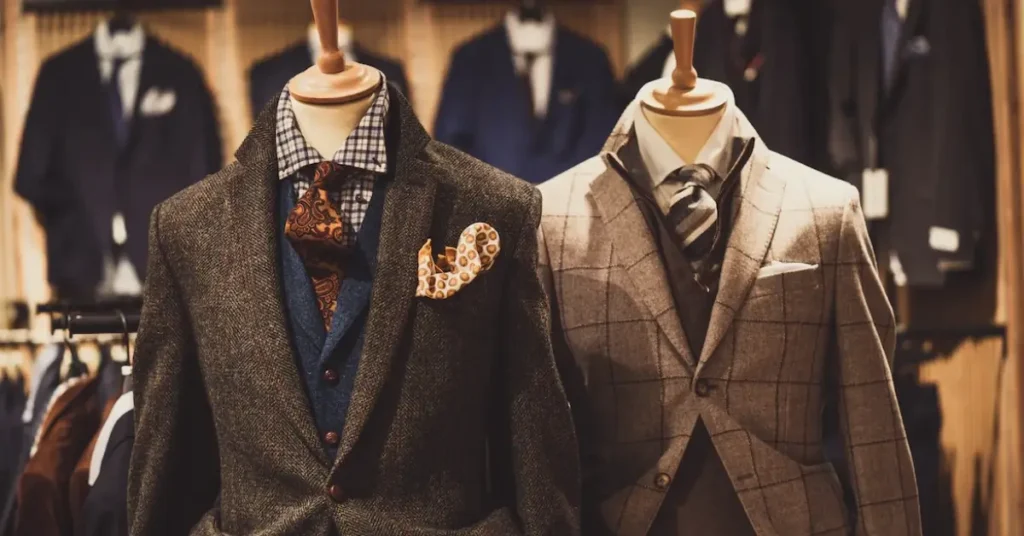 9 Outerwear
Elevate your style by incorporating statement outerwear into your wardrobe. Invest in timeless pieces like a well-tailored overcoat, a stylish leather jacket, or a classic trench coat. These outerwear options instantly add sophistication and character to any outfit. Whether you're going for a formal or casual look, a statement outerwear piece becomes the focal point, enhancing your overall style. With their versatility and enduring appeal, these outerwear choices serve as investment pieces that will elevate your fashion game and leave a lasting impression. I choose outerwear that reflects my personal style and complements my wardrobe for a refined and fashionable look.
10 Hair and Grooming
A well-groomed appearance is a must for a masculine outfit. Keep your hair trimmed and styled in a way that suits your face shape and personal style. A clean-shaven face or well-maintained beard can also add to a masculine look. Maintaining good hygiene is also important. Take care of your skin, brush your teeth regularly, and wear deodorant to ensure that you smell fresh and clean.
Attractive tips for men;

– Spray cologne behind your ears , shoulders, chest , inside elbow & inner wrists.

– If you wanna appear taller, wear a one colour outfit. For example ( all black )

– When next you're on long sleeves, roll up your sleeves to show your forearms.

— Headking's Mindset 🧠 (@MindOfHeadking) May 24, 2023
11 Confidence and Attitude
Confidence and attitude are essential for a masculine look. Stand up straight, make eye contact, and speak with conviction. Embrace your personal style and don't be afraid to take risks. Remember, dressing masculine is all about feeling confident and comfortable in your own skin.
12 Use layering
Layers are great to complete your outfits. Opt for versatile pieces like long coats, classic bombers, blazers, vests, and denim jackets. Pair them with well-fitting pants or classic white shirts. Dark jackets or blazers add a touch of sophistication. Stick to neutral colors for easy styling. Layering instantly elevates casual ensembles and allows for customization, making you stand out with confidence and a strong fashion sense. I personally love troyer!
13 Monochrome Outfits
Create a sleek and powerful look by incorporating monochrome outfits into your wardrobe. Experiment with all-black ensembles or tonal outfits in a single color to make a strong fashion statement. Monochrome styling exudes sophistication and simplicity while showcasing your attention to detail. Whether you opt for an all-black outfit or a tonal combination in a specific hue, this approach adds a sense of elegance and cohesiveness to your overall appearance. Embrace the versatility of monochrome dressing to create a striking and confident style that is sure to turn heads.
14 Shoes Are Key
To enhance your fashion style as a man, it is important to invest in high-quality shoes that complement your skin tone and the outfits you plan to wear. Even in casual attire, great footwear plays a significant role in looking well-dressed and improving your overall appearance. Ensure that your shoes harmonize with your chosen color palette and complete the overall look you desire. Prioritize purchasing from footwear brands that adhere to high social and environmental standards, as ethically produced, quality shoes are a valuable addition to a masculine wardrobe. It is a worthwhile investment that can significantly elevate your fashion game. Make sure your shoes are clean and change them before they are too worn out
15 Fabrics
The fabrics you choose for your outfit can make all the difference in achieving a masculine look. Opt for sturdy materials such as denim, leather, wool, and cotton. These fabrics not only look great but also hold up well over time. When selecting dressier fabrics, choose materials such as tweed, flannel, and cashmere for a touch of sophistication.
15 Be a masculine men
The biggest step toward a masculine man is to act like one. Embracing masculinity involves embodying key qualities and adopting a positive mindset. Cultivate traits like courage, ambition, persistence, loyalty, honesty, strength, and bravery. Masculine men exhibit independence, leadership, and assertiveness, while also being compassionate, humble, and caring towards others. Regardless of your outfit, wear it with confidence and a strong posture to exude masculine energy.
FAQ
What clothes make me look more masculine?
Clothes that can make you look more masculine include structured blazers, button-down shirts, tailored pants, and dark-wash jeans. Accessories like leather belts and watches can also add a masculine touch. However, it's important to wear clothes that make you feel comfortable and confident.
How to look masculine when skinny?
To look more masculine when skinny, consider wearing clothes that add structure and bulk to your frame, such as layered outfits, structured jackets, and clothing with vertical stripes or patterns. Accessories like hats and boots can also add a rugged touch.
How can I get manly body shape?
To get a more masculine body shape, focus on building muscle through strength training exercises like weightlifting, push-ups, and pull-ups. Incorporating a healthy diet with sufficient protein and staying consistent with exercise can help you achieve a more muscular and toned physique.
---
If you liked this blog post about the topic: Masculine Outfits, don't forget to leave us a comment down below to tell us about your experience with it.