You're in luck! An oval face is often considered the ideal shape, offering a balanced canvas for a myriad of hairstyles.
Think of it as the golden ticket in the world of grooming. Whether you're leaning towards a sleek back, a tousled wave, or even a bold buzz cut, your oval face is like a versatile canvas, ready to complement almost any style you throw its way.
But with great potential comes the quest for perfection. So, how do you pick that standout style tailored just for you? Let's dive in and discover the cuts that not only suit but enhance your natural symmetry. Ready to turn heads? Let's get started!
30+ Hairstyle for Men Oval Face
I've got you covered with some of the trendiest and most flattering options out there. These hairstyles will have you feeling confident and stylish in no time.
Crew Cut
The Crew Cut is a classic, timeless style for those with oval faces. This short hairstyle is known for its trimmed sides and slightly longer top. It's low maintenance, versatile, and great for any occasion. Plus, it emphasizes the natural balance of your facial features, making it an ideal choice for oval faces.
Buzz Cut
Simple and bold, the Buzz Cut is perfect for those who prefer a no-fuss style. Ideal for oval faces, the buzz cut is a close crop with minimal length, giving your face a clean and structured appearance. Plus, it's practical and easy to maintain, fitting perfectly into a busy lifestyle.
Undercut
A Undercut is another fantastic short hairstyle for men with oval faces. With its sharp contrast between the short sides and longer top, the undercut adds a modern edge to your overall look.
Side Part
The Side Part is a timeless classic that works wonders for men with oval faces. To achieve this look, comb your hair to one side, creating a distinct part. You can choose which side best suits your preference and natural hair direction.
The key to making this style work is ensuring the part is clean and sharp, which will help balance and frame your oval face perfectly.
Quiff
The quiff haircut starts with a clean, tapered fade on the sides and back. The real magic happens with the hair on top of your head, styled upward and forward to create a voluminous quiff.
This hairstyle is attention-grabbing and bold, providing a perfect balance for those with oval faces. To achieve the best results, use a good styling product like a pomade or wax.
Shaggy Haircut
The goal is to maintain the natural symmetry of the oval shape. Generally, a haircut that adds width to the forehead and narrows the appearance of the lower part of the face is ideal. A shaggy haircut or a beard, similar to the one worn by Adam Levine, can create this effect.
CR7 Haircut
Another characteristic to consider is the length of the hair. Longer hairstyles can work well, but they need to be carefully styled to avoid elongating the face too much. A Cristiano Ronaldo oval face haircut is a great example of a style that balances length.
Pompadour
Layered haircuts are a safe bet for men with oval faces, as they help enhance facial proportions and contour the face. This can be achieved with a pompadour or a messy, textured look.
Man Bun
To rock a Man Bun, you'll need a hair length that can be pulled up into a bun on the top of your head. Once you have the length, simply gather your hair and secure it with a hairband, leaving a portion of hair to hang freely for a relaxed look.
This hairstyle can give you a sophisticated appearance with minimal effort, perfect for casual and formal events alike.
Shaved Head
Opting for a shaved head can make you stand out in a crowd and exude confidence. It's a bold move that shows you're not afraid to make a statement. The Shaved Head is also low-maintenance, so you'll spend less time styling your hair and more time enjoying life.
Faux Hawk
The Faux Hawk adds height and angularity to the face while maintaining a fashionable edge. This style is easy to maintain and offers the right balance between casual and professional looks, making it a fantastic choice for anyone with an oval face.
French Crop
The French crop features shorter sides and a textured top, creating a clean and contemporary appearance that complements the balanced proportions of an oval face.
Ivy League Haircut
This timeless, classic cut boasts short sides with a slightly longer section on top. It exudes sophistication while ensuring you look neat and well-groomed. The Ivy League haircut complements an oval face effortlessly by showcasing the balanced facial features and providing a clean-cut appearance.
Brushed Back
The Brushed Back haircut is ideal for those with an oval face as it enhances the naturally balanced facial features while offering a casual yet put-together appearance. Plus, it's easily adaptable so you can switch up these styling products to achieve a slick, high-shine finish or a more textured matte look.
The Fade
Another popular short hairstyle for oval faces is The Fade. The Fade consists of gradually shortening the hair on the sides and back while leaving the top hair slightly longer. This stylish look creates a smooth transition from the hairline to the nape, highlighting your facial contours.
There are a lot of different types of fade, and we look at them in a little more detail next.
Taper Fade
A taper fade is a versatile and trendy hairstyle for men with oval faces. It involves gradually decreasing hair length from the top down the sides and back. This creates a clean, tapered appearance that accentuates the face's balanced dimensions and offers a modern, sophisticated look.
High Fade
A high fade is a bold and modern short hairstyle. It features a sharp transition from short sides and back to longer hair on top. This high-contrast haircut complements the face's balanced proportions and exudes a confident, edgy style.
Medium Fade
The medium fade involves a gradual transition from shorter sides to a medium-length top. This balanced haircut complements the face's proportions, offering a polished yet versatile appearance.
Low Fade
A low fade is another excellent hairstyle for men oval face. It features a subtle taper from the sides and back to a longer top. This haircut maintains a clean and tailored look while highlighting the face's balanced dimensions. It's a classic choice that exudes confidence and style.
Bald Fade
The bald fade is a striking and edgy choice. Shaved sides and back close to the scalp, creating a seamless transition to longer hair on top. This modern haircut adds a bold contrast to the face's balanced proportions, offering a distinct and confident look.
Wavy Undercut
A wavy undercut comes with a short sides-and-back style combined with a wavy, longer top, which adds depth and character to your appearance while highlighting the balanced proportions of your face.
Mop Top
A classic, medium-length hairstyle. Let your hair grow to a length where it can be combed down over the forehead and ears, creating a slightly messy yet charming look.
Braided Hairstyle
Braids, whether single or multiple, add a distinctive and eye-catching element to your look. They can be tailored to suit your personal style and preferences while showcasing the balanced proportions of your oval face.
Brush Cut
Uniformly cutting the hair to a short length, creating a clean and minimalistic appearance. This hairstyle highlights the balanced proportions of an oval face and is easy to maintain, making it a practical and stylish choice.
Bowl Cut
This is a retro-inspired hairstyle where the hair is cut evenly around the head, resembling a bowl. While not as common today, it can offer a unique and quirky look. The balanced proportions of an oval face allow for versatility in pulling off this unconventional hairstyle with a touch of vintage charm.
Short Afro
A short afro is a stylish and low-maintenance hairstyle that complements men with oval faces. It's all about keeping short, tightly coiled curls that create a round shape. The natural volume of the Afro adds a distinctive and appealing dimension to your look and emphasizes the balanced features of an oval face.
Spiky Hair
Spiky hair is a trendy and dynamic hairstyle for men with oval faces. This involves styling the hair with styling products to create defined, upright ends. This bold and structured look adds a modern touch to your appearance and emphasizes the balanced proportions of the face, creating a confident and energetic style.
Messy Long Fringe
One of the most popular fringe styles for oval faces! This hairstyle features longer hair on top and shorter sides, giving your face a balanced appearance. The messy texture adds a touch of freshness and modernity.
Textured Fringe
Another great option to consider is the textured fringe with a low skin fade. This hairstyle is characterized by a subtle fade on the sides, accompanied by a textured fringe on top that is perfect for accentuating your facial features and bringing out the best in your oval face shape.
Comb Over
If you're looking for something more classic but equally flattering, why not try a comb over with a side-swept fringe and short sides? This timeless hairstyle exudes sophistication and style while keeping the focus on your oval face shape.
Slick Back
The slick back hairstyle is known for its sophisticated and timeless appearance, making it a go-to choice for many. The key to pulling off this stylish look is by keeping the hair on top slightly longer and gradually trimmed at the sides. This creates a sleek profile that accentuates your oval face shape without elongating it.
Specific Hair Types and Styles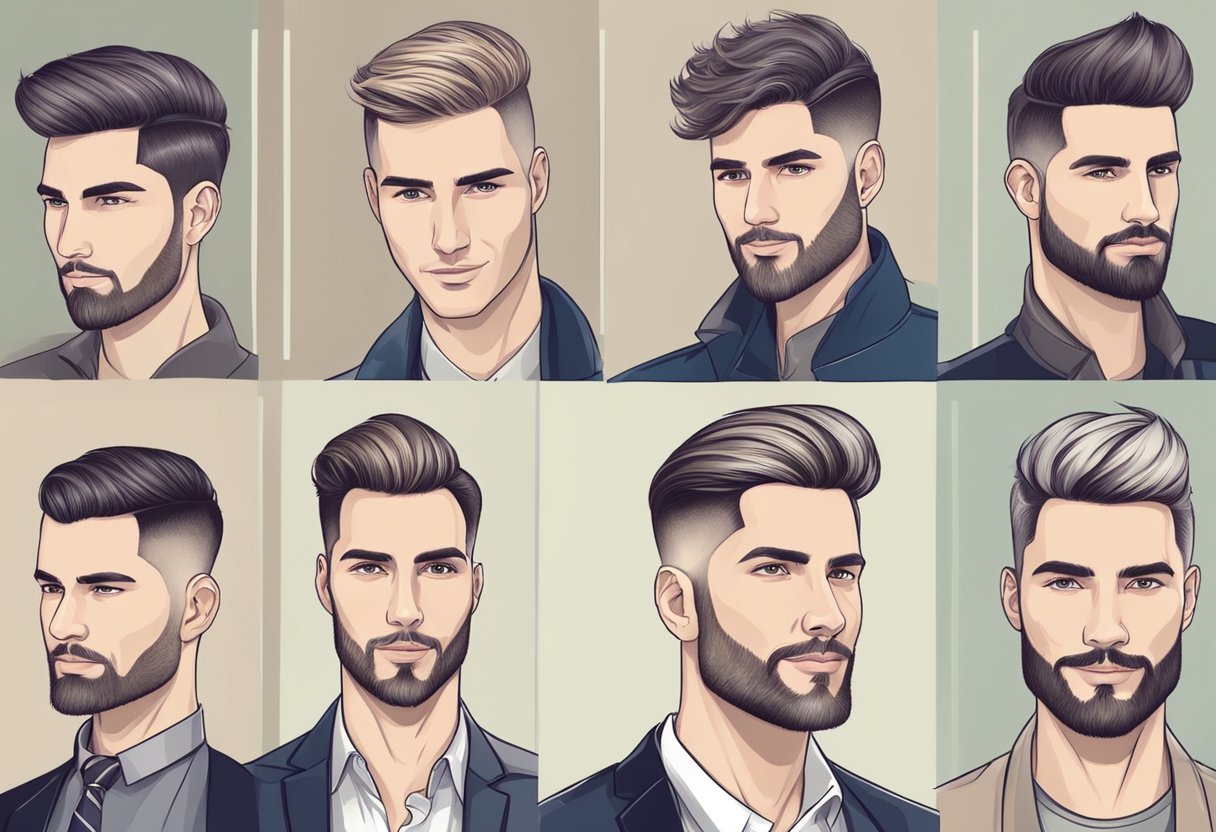 Finding the right hairstyle for men with oval face shapes can be a really fun and satisfying experience. Let's dive into specific hair types and see which styles are the best options for you.
Hairstyles for Curly Hair
Curly hair gives you a natural texture that can highlight your oval face shape. One great style for men with curly hair and an oval face is the curly fringe. It adds volume at the forehead and on top, while the short sides enhance the overall shape of your face.
Another option is a side part combined with textured curls on top. This creates a balanced and stylish look perfect for enhancing your facial features.
Hairstyles for Blonde Hair
Blonde hair can really make an impact with the right hairstyle for men with an oval face. One idea is a slicked back look, which showcases your facial features and adds sophistication to your style.
Another option is a quiff with a subtle fade on the sides. This adds height to the top, drawing attention to your oval facial shape and making your look both classic and modern.
Psst! Find more hairstyle ideas for blonde hair in our article!
FAQ
Is long hair good for oval face shape men?
Long hair can complement an oval face shape for men, as the balanced proportions allow versatility in hairstyle choices. Consider factors like hair type, maintenance, and personal style when deciding on long hair, and consult with a hairstylist for a look that suits you best.
Is middle part good for oval face men?
A middle part can work well for men with oval faces, as the balanced proportions complement various hairstyles. However, the suitability of a middle part depends on personal style and hair type. Experiment to find the look that enhances your overall appearance.
Are oval faces attractive?
Oval faces are often considered attractive due to their balanced proportions. However, attractiveness is highly subjective, and individual preferences vary widely. Other factors, like confidence and personality, play a significant role in overall attraction.
Do girls like oval face?
Facial attractiveness is subjective. Some individuals may find oval faces appealing due to their balanced proportions. However, personal preferences in attractiveness vary widely, and factors like personality, confidence, and style often play a more significant role in overall attraction.
---
If you liked this blog post about the topic: Hairstyle for Men Oval Face, don't forget to leave us a comment down below to tell us about your experience with it.
Need the right outfit to your hairstyle? Check out my Top20 Fashion Ideas for European Men to rock the look!