Old Money Men's Fashion is an aesthetic that you'll find goes beyond just dressing well, it's about showcasing your sense of timeless elegance, sophistication, and understated luxury.
This style doesn't just symbolize wealth for you, but also your appreciation for quality and classic design. In a world where you see fast fashion and ever-changing trends, old money men's fashion remains a steadfast testament to good taste and refinement.
In this article, we will delve into the Top30 of Old Money Men's fashion outfits and learn to identify key wardrobe pieces.
30 Old Money Men's Fashion Outfits
Here are the most 30 Old Money outfits for men, inspired by timeless and classic fashion:
1 Tweed Three-Piece Suit
A well-tailored tweed suit with a matching waistcoat. Perfect for autumn and winter events, they pair well with leather brogues and a crisp white shirt.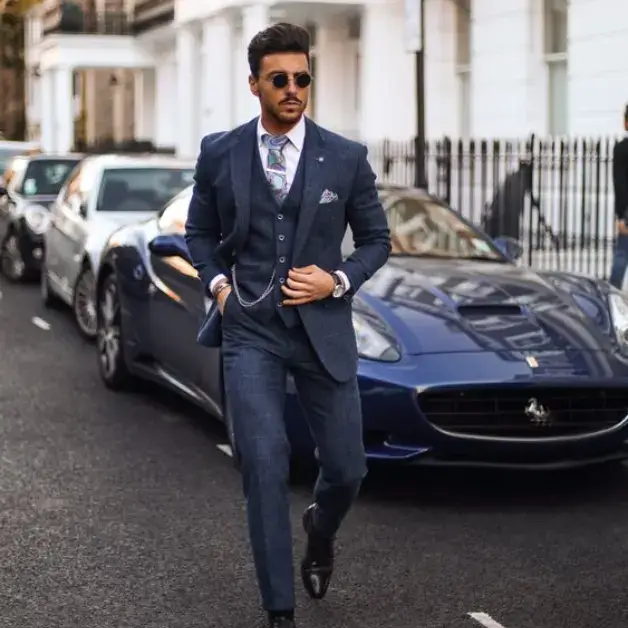 2 Navy Blazer & Jeans
A navy blue blazer, if you like it a bit special one with gold buttons. Ideal for semi-formal occasions, they can be combined with khaki trousers or dark jeans for a polished look.
3 White Linen Suit
A go-to for summer weddings or beach events, they match well with light-colored loafers or leather sandals.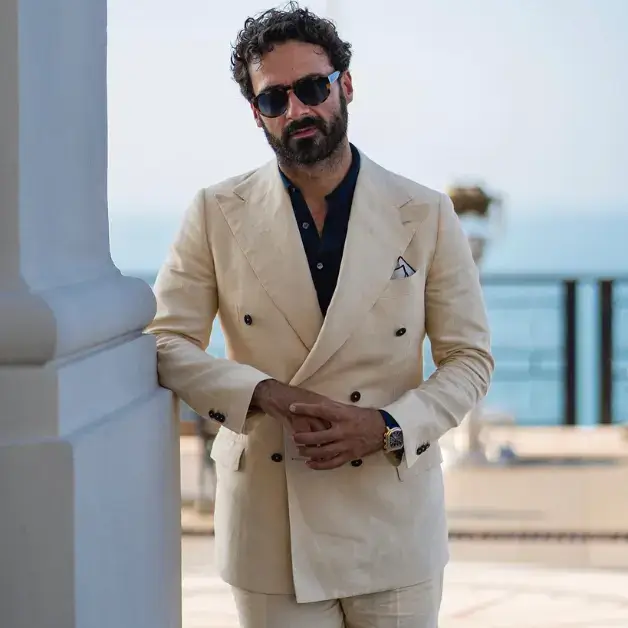 4 Cashmere Sweater
A soft cashmere sweater in a neutral color. Great for a casual yet refined look in cooler months, they complement both chinos and wool trousers.
5 Seersucker Suit
A white striped seersucker suit, ideal for warmer climates. Best for garden parties, they can be paired with light-colored dress shoes.
6 Black Tie Tuxedo
A classic black tuxedo with a bow tie, patent leather shoes, and a white pocket square. Essential for black-tie events.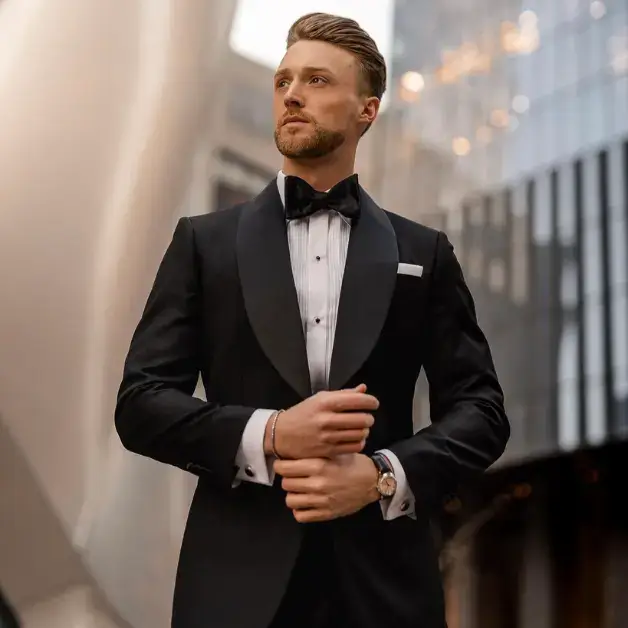 7 Herringbone Overcoat
A long herringbone patterned overcoat. Suitable for cold weather, they can be layered over suits or casual outfits for added warmth.
8 Polo Shirt & Tailored Shorts
A crisp polo shirt. Perfect for casual summer outings, they pair well with tailored shorts or chinos and leather boat shoes.
9 Monogrammed Bathrobe
A plush bathrobe with monogrammed initials, for a touch of personal luxury. Add a personal touch to formal attire, especially with dress shirts at special occasions.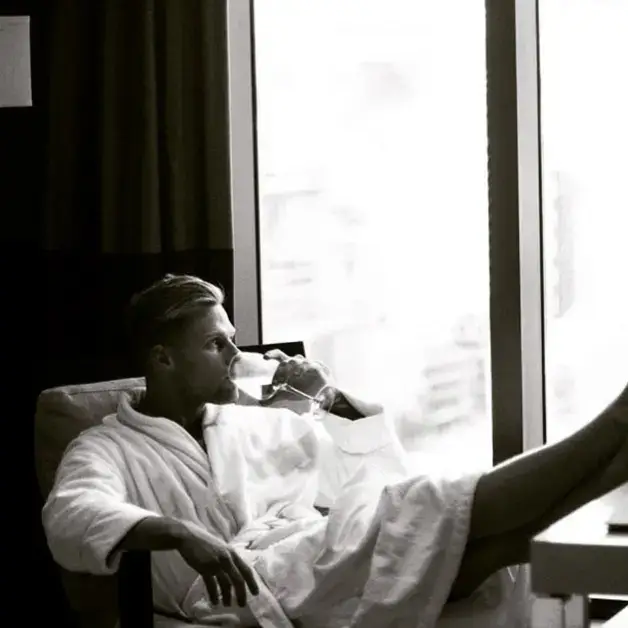 10 Silk Pajama Set
A luxurious silk pajama set for lounging at home.
11 Camel Hair Coat
A classic camel-colored coat. Ideal for chilly days, they can be combined with turtlenecks or dress shirts.
12 Argyle Sweater & Slacks
A patterned argyle sweater is always a good choice. Suitable for casual winter gatherings, they pair well with slacks or dark jeans.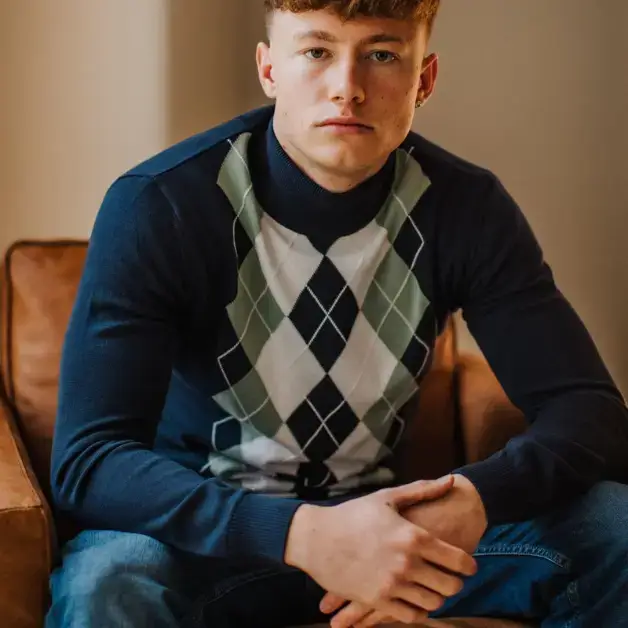 13 Ascot Tie & Vest
A silk ascot tie paired with a vest and dress shirt.
14 Corduroy Pants
Rich corduroy pants. Ideal for autumn, they can be paired with cashmere sweaters or blazers.
15 Pinstripe Suit
A classic pinstripe suit with a crisp white shirt and silk tie. A business classic, they're perfect for important meetings.
16 Barbour Jacket
A waxed Barbour jacket paired with well-fitted jeans and leather boots. Great for rainy days, they can be layered over casual or semi-formal outfits.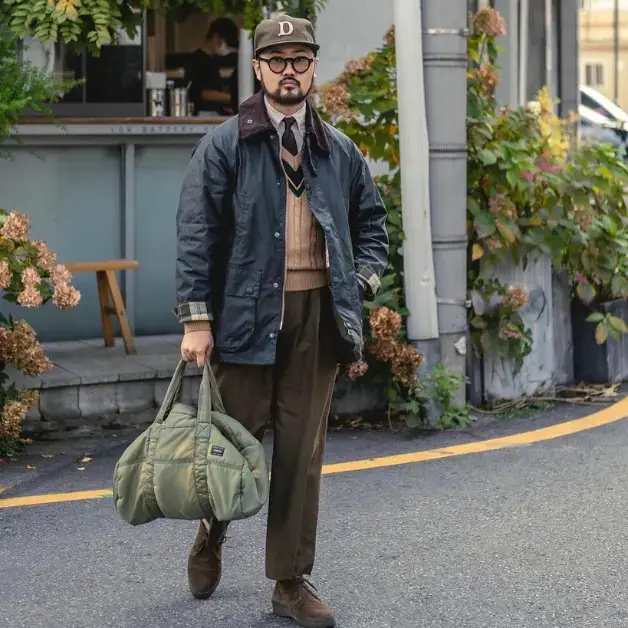 17 Morning Suit
A tailored morning suit, reserved for formal daytime events, especially weddings or horse races in Britain.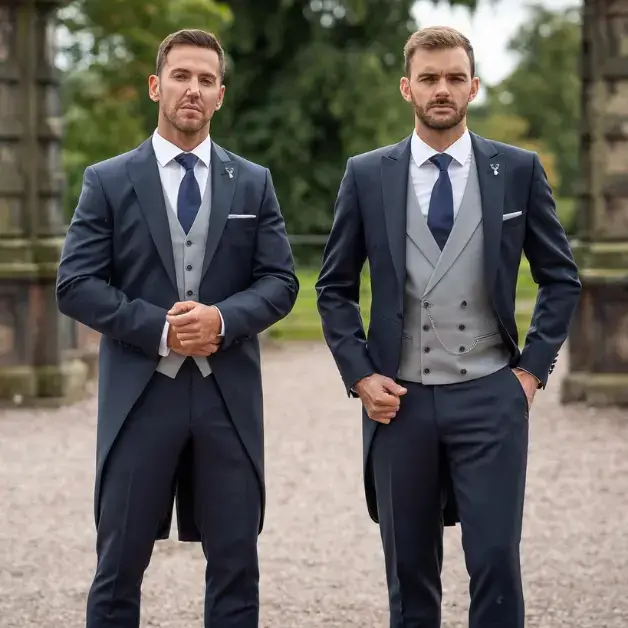 18 Velvet Dinner Jacket
A rich velvet smoking jacket for evening lounging. Perfect for upscale evening events, they can be paired with black trousers and a bow tie.
19 Fair Isle Sweater
A patterned Fair Isle sweater. Ideal for holiday gatherings, they match well with casual trousers, corduroy pants or jeans.
20 Suede Loafers
Soft suede loafers paired with chinos for a casual yet refined look. Suitable for spring and summer, they complement chinos or linen trousers.
21 Linen Shirt with Cashmere Sweater
Ideal for transitional seasons like spring and autumn, this combination balances the coolness of linen with the warmth of cashmere. It's perfect for casual outings or relaxed business meetings, and can be paired with tailored trousers or chinos and loafers for a refined yet comfortable look.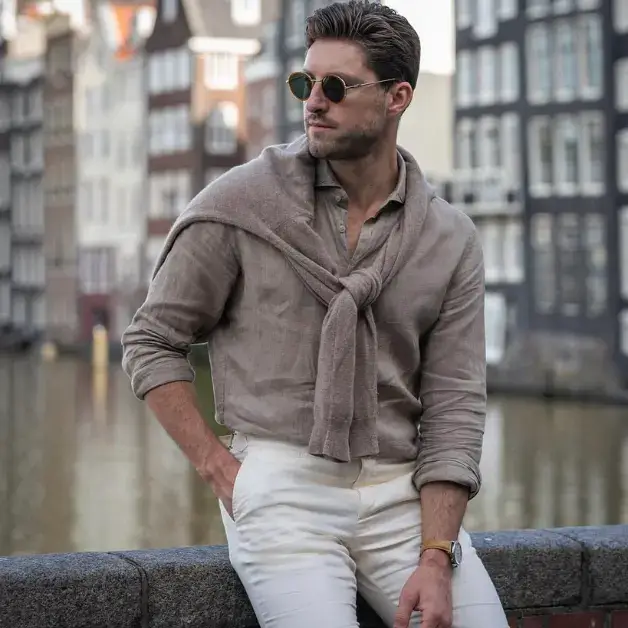 22 Brogue Boots
Leather brogue boots paired with wool trousers for colder days. A stylish choice for business or casual wear, they can be paired with suits or jeans.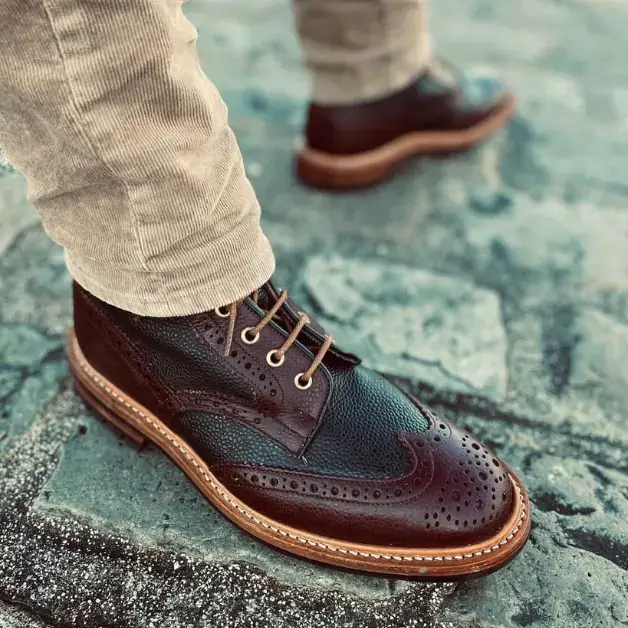 23 Madras Shirt & Bermuda Shorts
A colorful madras shirt with Bermuda shorts. Perfect for summer picnics or casual outings, they pair well with shorts or light trousers.
24 Cashmere Scarf & Peacoat
A soft cashmere scarf paired with a classic navy peacoat. Add warmth and luxury to winter outfits, especially when layered over coats.
25 Monk Strap Shoes & Suit
Leather monk strap shoes are a chic alternative for formal events, they shine when paired with tailored suits. But also a great choice for a more casual outfit with jeans or chino.
26 Sahara Jacket with Chino
Perfect for adventurous outings or casual weekends, this combination offers a blend of utility and style. The Sahara jacket provides lightweight protection, while the chinos add a touch of sophistication. Pair this ensemble with desert boots or sneakers for a look that's ready for both urban exploration and outdoor adventures.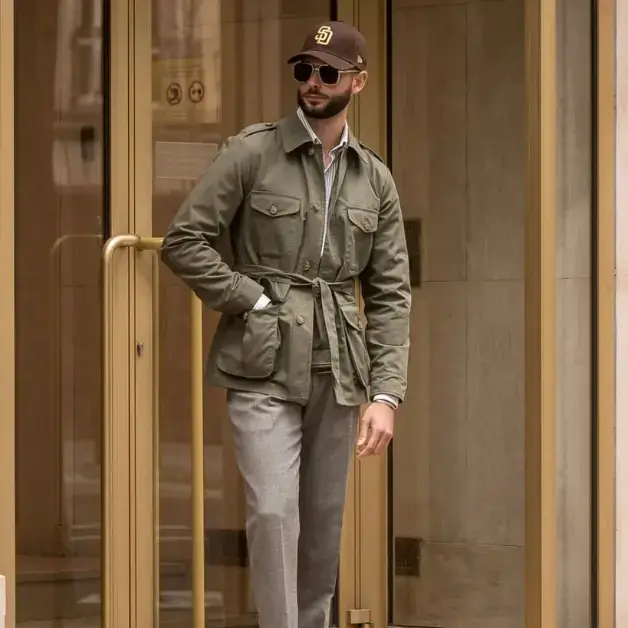 27 Shirt, Chinos, Boat Shoes
Ideal for summer and coastal events, this combo blends casual comfort with a touch of elegance. It's perfect for beach gatherings or relaxed weekends, offering a stylish yet laid-back look.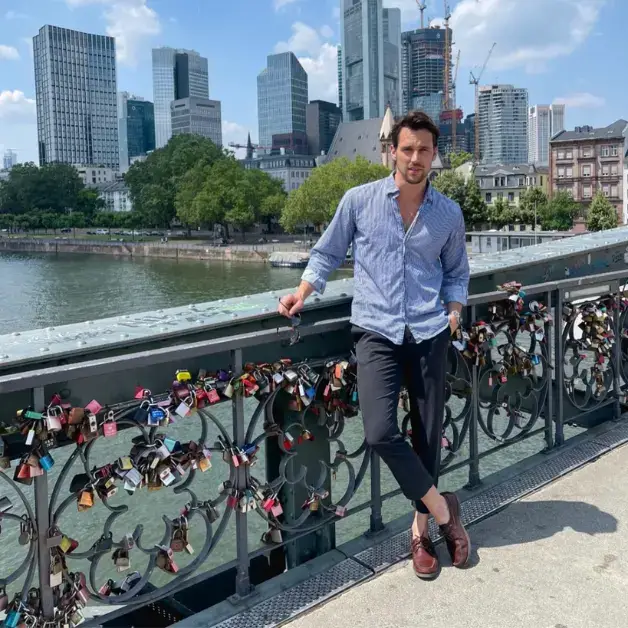 28 Cable Knit Sweater & Shorts
Perfect for transitional weather, this pairing balances cozy warmth with breezy comfort. It's great for evening beach outings or spring mornings, delivering a casual yet chic vibe.
29 Shirt, Sweater & Jeans
A classic trio for cooler days, this combination offers layered warmth with a touch of casual sophistication. It's ideal for weekend outings or casual Fridays, presenting a relaxed yet polished look.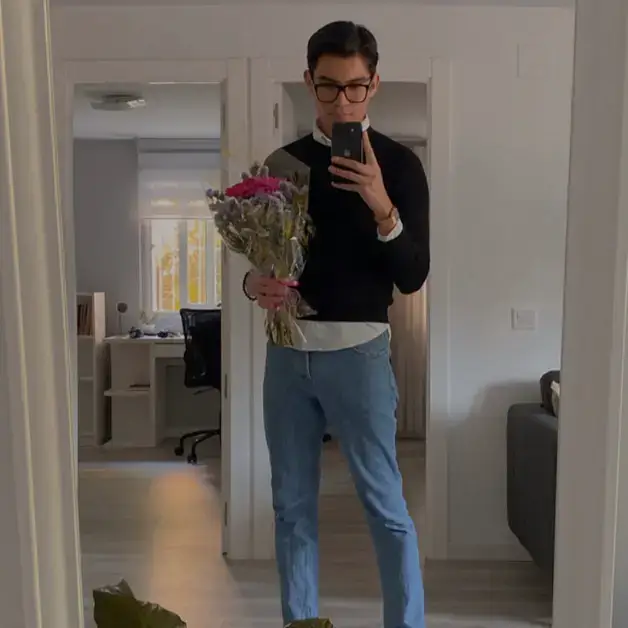 30 Shearling Coat & Turtleneck
A warm shearling coat paired with a turtleneck sweater for winter. Perfect for winter outings, they offer warmth and can be paired with casual attire.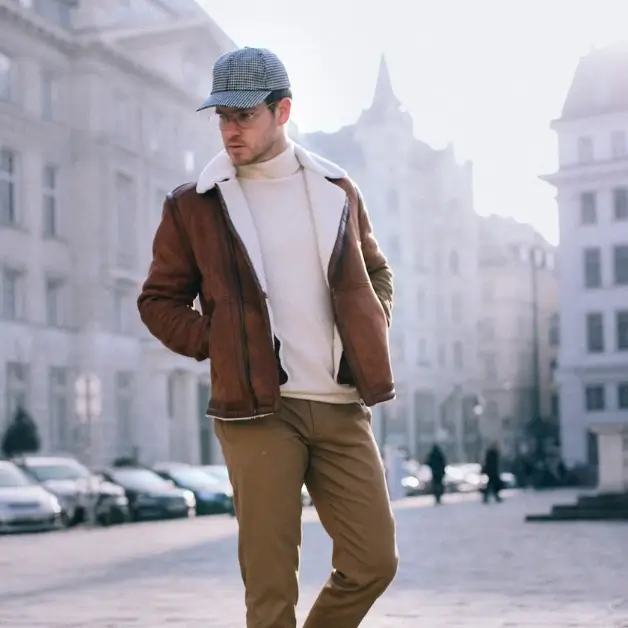 Key Characteristics of Old Money Men's Fashion
Old Money Men's Fashion has always been an epitome of elegance and sophistication. This timeless style is about looking effortlessly put-together in high-quality, classic clothing. Let's jumpt into some defining characteristics that make it stand out.
Simplicity and Refinement
The essence of Old Money Men's Fashion lies in its simplicity and refinement. Rather than flashy and ostentatious designs, it leans towards subdued elegance. Old Money style is achieved by opting for traditional masculine colors like navy, black, white, and gray, and keeping the wardrobe modest and understated. This approach gives you a versatile wardrobe, ready for any event.
Quality over Trendiness
A significant aspect of Old Money Men's Fashion is the focus on quality over trendiness. Investing in classic wardrobe staples such as tailored suits in neutral colors, crisp button-down shirts, and polished leather shoes is paramount. These timeless pieces, from renowned brands like Brooks Brothers, ensure durability and a refined appearance that never goes out of style.
Prominent Designers and Brands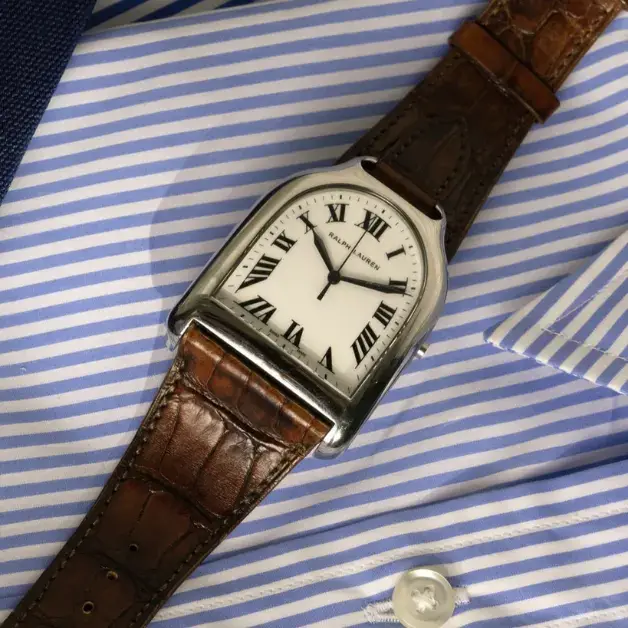 The world of Old Money Men's Fashion is an exclusive realm where tradition meets luxury. In this charming arena, renowned designers and brands continue to epitomize the affluent lifestyle. Today, I'll talk about two prominent names that are synonymous with old money men's fashion: Ralph Lauren and Burberry.
Ralph Lauren
Ralph Lauren has become an undeniable force in the fashion industry since its establishment in the 1960s. As a staple "Old Money" preppy brand, the company showcases timeless designs that speak to the upper echelons of society. Their products range from sophisticated suits, tailored tuxedos, to the iconic Polo shirts, ensuring that elegance and sophistication are always present.
One of the secrets behind Ralph Lauren's enduring appeal is their commitment to using high-quality materials, such as cashmere, merino wool, and fine cotton. Not only do these fabrics exude luxury but they also provide unparalleled comfort and lasting durability.
Burberry
Another designer brand that captures the essence of old money men's fashion is the British fashion house, Burberry. Founded in 1856, Burberry has built a legacy around its sophisticated trench coats, cladded in the iconic house check. This distinctive pattern has become synonymous with refined elegance and timeless grace.
Burberry not only masters the art of outerwear but also excels in crafting tailored suits, dress shirts, and exquisite accessories, all made using premium materials. Overall, the brand embodies the quintessential old money aesthetic – an unwavering commitment to quality, craftsmanship, and sophistication.
Practical Tips for Emulating Old Money Style
Old Money Men's Fashion represents a timeless and sophisticated approach to dressing that carries an air of elegance and class. In this section, I will show you practical tips on how to emulate this style by investing in key pieces and aiming for elegance over flashiness.
Investing in Key Pieces
Old money style is about investing in high-quality, timeless garments that will last for years to come. Some essential pieces to consider include:
Tailored suits: A well-fitted suit is the cornerstone of old money fashion. Invest in a suit made from quality fabrics, such as wool or cashmere, and opt for classic colors like navy or charcoal.
Heritage brands: Embrace brands known for their timeless appeal and quality craftsmanship. These brands have a history of producing garments that have stood the test of time.
Classic patterns: Incorporate subtle patterns, like pinstripes and herringbone, into your wardrobe. These patterns add visual interest without being too flashy.
Aiming for Elegance over Flashiness
Old money style prioritizes elegance and sophistication over ostentation. Here are some ways to achieve this look:
Understated accessories: Opt for simple, yet elegant accessories like leather belts, cufflinks, and classic watches. These items should complement your outfit, not distract from it.
Neutral colors: Stick to a neutral color palette, such as black, navy, gray, and white. These colors are timeless and can be easily mixed and matched.
Quality over quantity: Invest in fewer, high-quality items rather than filling your wardrobe with inexpensive, trendy pieces. Old money style is about building a wardrobe that lasts.
By focusing on investing in key pieces and prioritizing elegance over flashiness, you can successfully emulate the old money men's fashion aesthetic.
FAQ
What does it mean to dress like old money?
When aiming for an old money look, choose preppy, single-tone outfits like well-fitted blazers, loafers, and polo shirts. Subtle brand indications are more desirable than prominent logos, and materials should be natural. Women can don dresses, skirts, and heels, while men should lean towards suits or khaki pants.
What is the old money style?
The old money fashion draws inspiration from the sartorial choices of renowned family legacies like the Kennedys, Gettys, and Vanderbilts. This style emphasizes preppy, single-tone outfits, subtle brand markings, and a notable absence of overt logos.
What are old money vibes?
Old money ambiance evokes the refined, elegant, and elite aura tied to the lifestyles of the affluent upper class. It embodies a legacy of tradition and sophistication, evident in clothing, interior design, and pastimes. Such an atmosphere is commonly linked to settings like country clubs, luxury yachts, and select social gatherings.
What colours are old money style?
Old money fashion typically features reserved and subtle shades like navy, beige, white, and black. Soft pastels like light blue, pink, and yellow are also favored. Instead of vibrant and attention-grabbing colors, the preference leans towards timeless and understated tones.
What is new money vs old money style?
New money fashion tends to be showy, emphasizing designer brands and prominent logos. In contrast, old money fashion leans towards subtle, timeless designs in subdued shades. While old money cherishes heritage and long-standing traditions, new money is drawn to the latest trends and innovations.
---
If you liked this blog post about the topic: Old Money Men's Fashion, don't forget to leave us a comment down below to tell us about your experience with it.