Long hair has always been associated with femininity, but in recent years, long hair on men has become more popular and accepted. Many men are embracing their long locks and finding ways to style them in a masculine way.
If you're a man with long hair, you might be wondering how to make your hair look more masculine. In combination with a good selected masculine outfit, you gonna look amazing.
There are many different long hairstyles for men to choose from. Each of these styles can be tailored to suit your individual preferences and personality.
40 Hairstyles for a Long Hair Masculine Look
Whether you prefer shorter, medium-length, or longer styles, there are plenty of options to choose from that will suit your personality and hair type. In this section, I'll show some of the best hairstyles for masculine long hair.
1 MAN BUN
The man bun remains a favorite in long hairstyles for men, exuding a sense of laid-back sophistication. Best suited for medium to long length hair, this style requires pulling the hair back and tying it into a neat bun. The result? A balanced blend of elegance and edge. To keep it casual, you can opt for a slightly messy finish.
2 LONG BRUSHED BACK HAIR
The long brushed back hair style embodies effortless elegance. It involves brushing your hair back and using a product to hold it in place. This look emphasizes your hair's length and volume while maintaining neatness. Perfect for casual or formal settings, it's an adaptable and manageable choice for those with long hair.
3 UNDERCUT
The undercut combines the allure of long hair with the neatness of short, cropped sides. This versatile hairstyle works with any hair type and can range from subtle to striking, depending on how drastic the length difference is. It's a commitment to maintaining two hair lengths, but it's a small price to pay for the distinctive appeal the undercut offers.
4 DREADLOCKS
5 PONYTAIL
Long hair tied into a ponytail offers an effortless yet polished look that is easy to manage. It's a style that works for all hair types, adding a touch of refinement to your long locks. Whether you prefer a high, mid, or low ponytail, it's a practical yet stylish way to keep hair out of your face while showcasing its length.
6 BRAIDS
Braids offer a versatile and stylish option for men with long hair. From single plaits to complex patterns, there's a multitude of possibilities to explore. Braids require some skill to create, but once done, they can last for several days with proper care. This hairstyle stands out for its intricate detail and the unique touch it lends to long hair.
7 SLICK BACK
The slick back is a timeless hairstyle that exudes a polished, suave aura. Perfect for men with medium to long hair, it involves combing the hair back with some hair product to maintain the sleek look. The slick back is a reliable choice for formal events or any situation where you want to appear sharp and sophisticated.
8 LONG HAIR WITH HAT
Wearing a hat with your long hair is both a practical and stylish choice. It can keep your hair under control, protect it from the elements, and serve as a statement-making accessory. Whether you choose a beanie, a baseball cap, or a fedora, the right hat can add an extra layer of style to your long hair.
9 QUIFF
The quiff is a stylish blend of the pompadour and the mohawk. It involves sweeping the hair up and back off the forehead, creating a voluminous, textured look. It's a versatile style that can be adapted for casual or formal occasions, making it a popular choice among long-haired gents.
10 BLOWOUT
A blowout for long hair involves using a hairdryer to create volume and shape in the hair. This style gives the hair a full, healthy look, and it can be tailored to create either a sleek or tousled appearance. A blowout is a great way to give your long hair a professional, polished style.
11 LONG SLICK BACK
The long slick back hairstyle exudes refined elegance. It involves combing your hair back for a sleek, polished look, typically held with a styling product. Perfect for both formal and business settings, it's a classic, controlled style that enhances your features. Despite needing regular maintenance, it offers a distinct, sophisticated look that's sure to impress.
12 RETRO SHAG
13 FISHTAIL BRAID
The fishtail braid is a complex braid style that looks impressive on long hair. It involves dividing the hair into two sections and then continuously splitting a small piece from one section and adding it to the other. This hairstyle takes a bit of practice but stands out for its detailed and intricate look.
14 BEACHY WAVES
Beachy waves are loose, tousled waves that give off a carefree, sun-kissed vibe. This style is perfect for those with naturally wavy hair, but it can also be achieved with a little bit of styling. It's the embodiment of summer fun and relaxation, making it a popular choice for a laid-back aesthetic.
15 LONG HAIR WITH BANDANA
Adding a bandana to your long hair can transform your look. It can be worn as a headband to keep hair out of your face or wrapped around a bun or ponytail for a touch of style. It's a versatile accessory that can add a pop of color and a dash of personality to any hairstyle.
16 BRAIDED MAN BUN
The braided man bun offers a stylish twist on the classic man bun. It involves braiding sections of your hair before pulling it back into a bun. This style adds a layer of complexity to the simple man bun, giving it a unique edge. It's an ideal choice if you're seeking a look that's both fashionable and functional.
17 LONG BED HEAD
Long bed head style is all about channeling a slightly disheveled yet intentional look. This style mimics the effect of just rolling out of bed, with an appearance that's casual and effortlessly cool. It's a playful way to style long hair and is perfect for those who prefer a laid-back, easygoing vibe.
18 LONG WAVY LOCKS
Long wavy locks celebrate the beauty of naturally wavy hair. This style allows the hair's natural texture to shine, creating a relaxed and voluminous look. Whether your waves are subtle or more defined, this style highlights the movement and body of wavy hair. It's a laid-back look that's easy to maintain and perfect for those who prefer a casual style.
19 LONG STRAIGHT AND CENTRE PARTED
If you have long, straight hair, a centre part can create a sleek and symmetrical look. This style showcases the smooth, flowing nature of straight hair and creates a balanced, elegant aesthetic. Keep in mind that this style works best on hair that's properly moisturized and frizz-free, so consider incorporating a smoothing serum into your routine.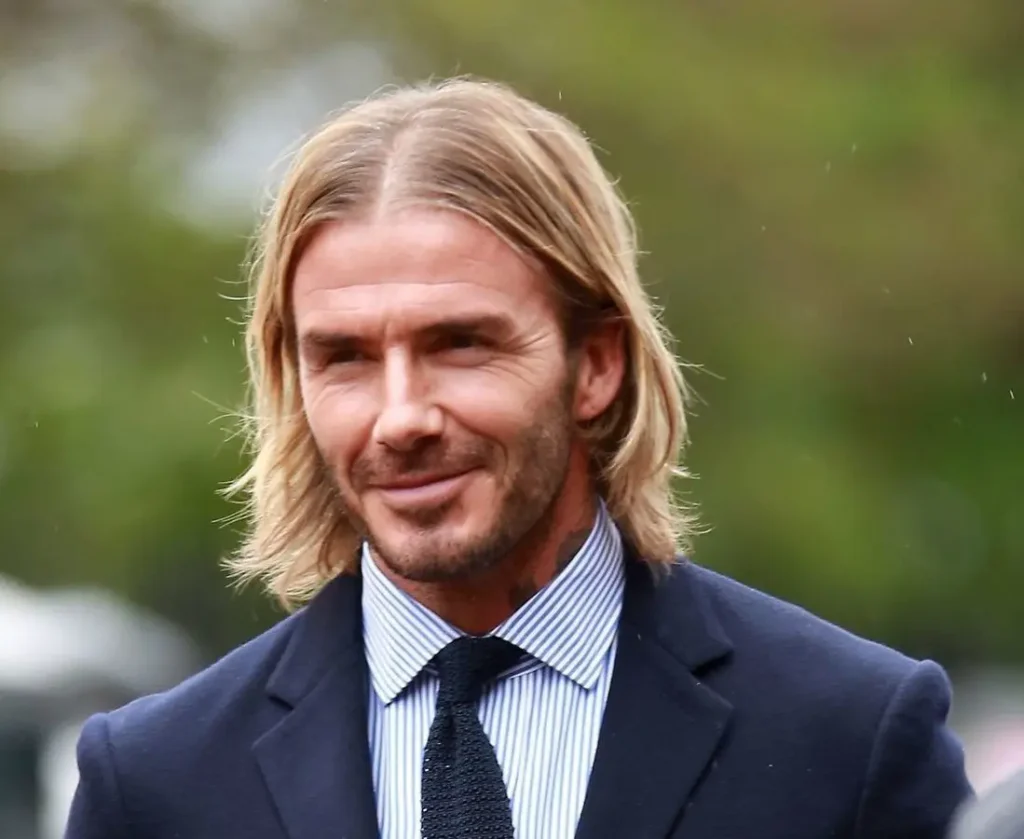 20 LONG AND TOUSLED
The long and tousled look is all about embracing a bit of controlled chaos. This style involves creating texture and volume for a bedhead-inspired look that still appears intentional and stylish. It's a fun, relaxed hairstyle for long hair that requires minimal upkeep, making it a great option for a laid-back yet fashionable aesthetic.
21 LONG SIDE PART
A long side part is a simple and effective way to change up your look. This style involves deeply parting the hair on one side, and then sweeping the bulk of the hair over to the other side. It's a flattering style that adds a touch of elegance and asymmetry to any look, and it's easy to maintain.
22 FRENCH BRAID
The French braid is a classic hairstyle for long hair. It involves weaving three sections of hair together from the crown of the head down to the nape of the neck. The French braid is versatile and can be dressed up or down, making it a stylish and practical choice for managing long hair.
23 CORNROWS
Cornrows are another fantastic protective style, particularly for those with textured hair. This style involves braiding the hair close to the scalp in neat rows. It's a time-consuming process, but the result is a clean, low-maintenance style that can last for several weeks. Cornrows offer a neat and structured way to showcase long hair.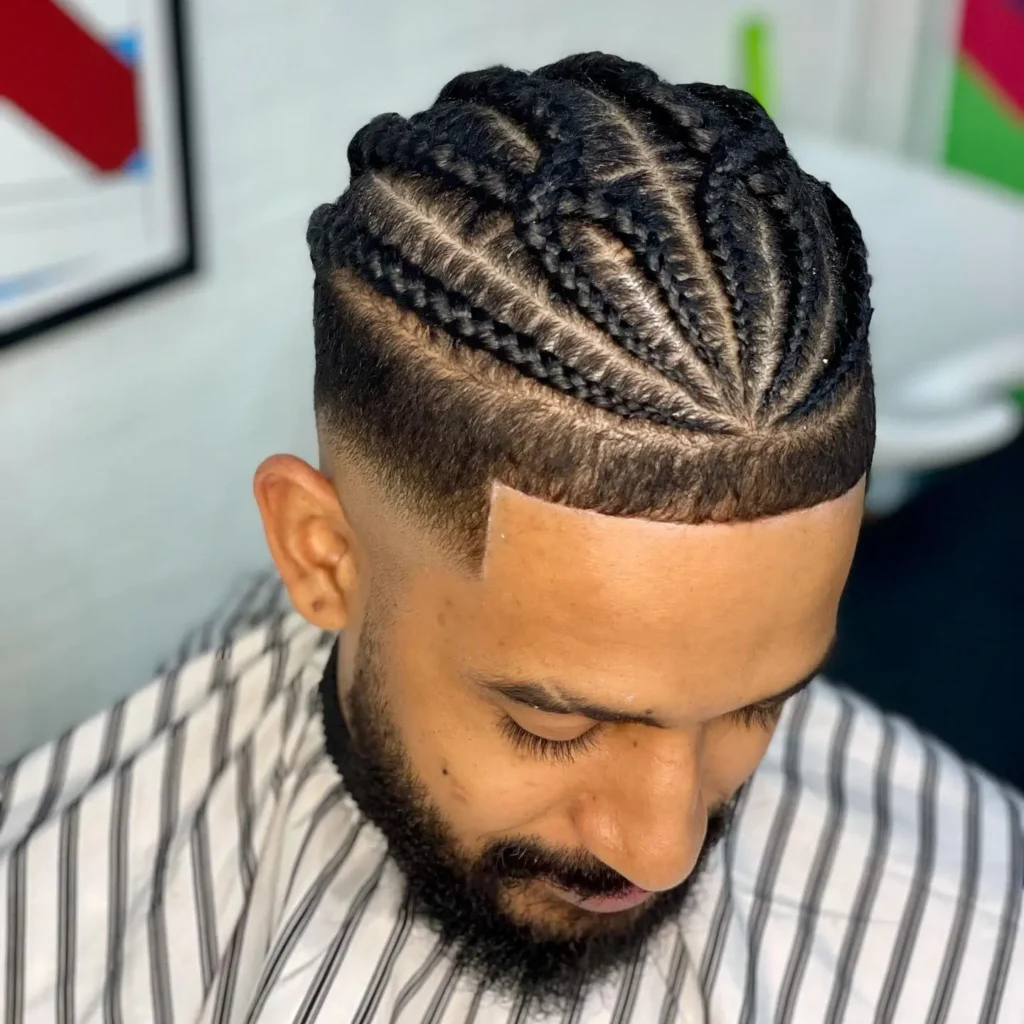 24 BOX BRAIDS
Box braids are a protective hairstyle ideal for those with textured hair. They involve sectioning the hair into squares or "boxes" and braiding each section. This style can be left in for weeks at a time, and it's a great way to manage long hair without daily styling. Box braids also serve as a platform for personal expression, as you can incorporate beads or other accessories for added flair.
25 FAUX HAWK
A less intense alternative to the traditional mohawk, the faux hawk features longer hair in the middle of the head, while the hair on the sides is shorter but not shaven. It's a versatile style that can look either edgy or polished depending on how it's styled. If you're looking for a long hairstyle that's cool and adaptable, the faux hawk might be the perfect fit.
26 POMPADOUR
The pompadour is a statement-making hairstyle that's steeped in sophistication. It involves sweeping the hair upwards and away from the face, creating a voluminous look. This classic style, which requires a good amount of product and precision, is a timeless choice for those seeking a hairstyle that's polished and suave.
27 LONG LAYERED WAVES
Long layered waves offer an attractive alternative for those with naturally wavy hair. It involves layering the hair to enhance its natural wave and create a sense of depth and movement. This style works particularly well with thicker hair, and the results are both elegant and dynamic. It's a look that's stylish yet understated.
28 BOHEMIAN
The bohemian hairstyle is all about embracing natural, free-spirited vibes. It features long, loose hair that exudes an effortless, carefree aesthetic. Ideal for wavy or curly hair, this style requires minimal styling and lets the natural texture of the hair shine. It's an ideal option for those who love a relaxed, uncomplicated approach to hairstyling.
29 VIKING STYLE
Inspired by history and popularized by television, Viking hairstyles often involve a combination of long hair, undercuts, and braids. This rugged, masculine style is versatile and can be customized to suit individual preferences. Whether it's paired with a full beard or adorned with hair accessories, the Viking style makes a strong statement.
30 SAMURAI BUN
The Samurai bun is a hairstyle that combines tradition with trendiness. Similar to a man bun, it's styled in a manner that reflects the aesthetics of ancient Japanese warriors. This style requires medium to long hair, and the bun is typically located at the crown of the head. It's a distinctive style choice that radiates a sense of cultured cool.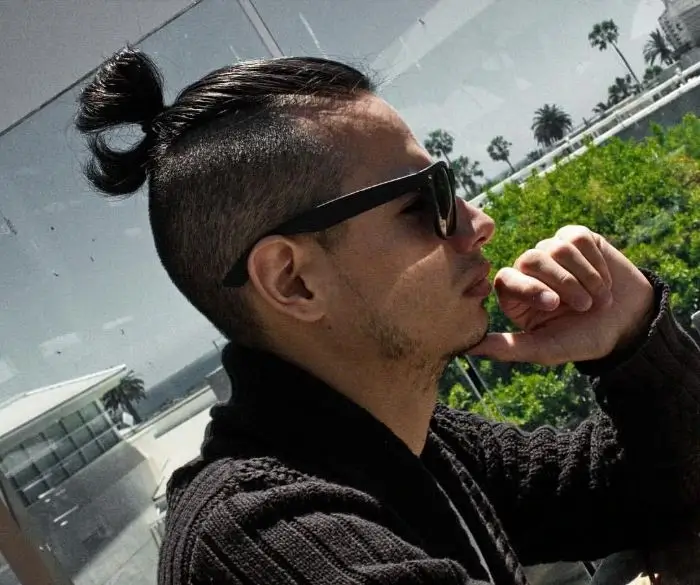 31 LONG CLASSIC
Timeless. Classic. Masculine. I don't need more words for this hairstyle.
32 TWISTED CURLS
Twisted curls add a fun, lively touch to long hair. Ideal for curly or wavy hair types, this style involves twisting strands into large, defined curls. The result is a voluminous, textured look that's full of life. With a little patience and the right hair products, you can achieve a hairstyle that's a true celebration of curls.
33 AFRO
The afro is a stunning hairstyle that showcases the natural beauty of curly, textured hair. It requires careful care and maintenance, but the result is a style that's filled with personality and cultural pride. With its distinct shape and volume, the afro is an unmissable style that radiates confidence and individuality.
34 MULLET
The mullet might be a bit of a throwback, but it's a unique style that's making a comeback. It's short at the front and sides, with the party happening at the back. If you're not afraid to make a bold fashion statement, a mullet is the perfect way to mix things up. Just remember, confidence is key when rocking this retro-inspired cut.
35 SHOULDER LENGTH STRAIGHT
Shoulder length straight hair is a timeless classic. It's a balanced style that works well with most hair types and face shapes, offering a simple and sleek look. This style requires regular trims to maintain its clean-cut length, and the use of a smoothing serum can combat any potential frizz. It's a versatile choice that showcases the elegant simplicity of straight hair.
36 SURFER HAIR
Surfer hair is the epitome of casual cool. This laid-back, sun-kissed style typically features long, loose waves, resembling the look of surfers fresh from riding the waves. Suitable for medium to long hair, this low-maintenance look radiates a relaxed vibe. So, even if you can't hit the beach, you can still channel that easy-going surfer spirit.
37 LAYERED CUT
The layered cut is a great way to add depth and volume to long hair. It involves cutting hair at varying lengths, which gives it a dynamic, textured appearance. This style works well with most hair types and can transform flat, lifeless hair into a lively, voluminous mane. It's a perfect option if you want to give your long hair an added boost.
38 BRO FLOW
The bro flow is a laid-back, versatile hairstyle perfect for medium to long hair. This style highlights your hair's natural texture, allowing it to fall naturally, often slightly pushed back or tucked behind the ears. Despite its casual, surfer-like vibe, it transitions well into formal settings. If you appreciate effortless style and adaptability, the bro flow could be an ideal choice.
39 HALF-UP HALF-DOWN
The half up half down style is a versatile hairstyle, featuring a mix of tied-up and free-flowing hair. By pulling the top section into a bun or ponytail and letting the rest fall naturally, it offers a balance of control and freedom. Perfect for any setting, this style is adaptable and showcases the length of your hair beautifully.
40 TAPER FADE WITH LONG HAIR ON TOP
A fusion of classic and modern styles, the taper fade with long hair on top pairs a precise fade on the sides with a voluminous top. It offers a stylish contrast and unique edge, blending neatly trimmed sides with the freedom of long hair. It's a versatile, adaptable choice, suitable for various face shapes and hair types.
How to Make Long Hair Look Masculine
Long hair can be a great way to express yourself, but it can also be a challenge to make it look masculine. If you're looking to keep your long hair but still want to look masculine, there are a few things you can do to achieve that look.
Keep your hair well-groomed. This means keeping it trimmed and styled in a way that is masculine. Consider a layered cut, which can add texture and dimension to your hair, making it appear more masculine. Avoid wearing your hair in a ponytail or braids, as these styles are more typically seen on women.
Use a good quality shampoo and conditioner to keep your hair healthy and strong. This will help your hair look its best and make it easier to style. Consider using a styling product, such as pomade or wax, to help keep your hair in place and add some definition to your style.
Consider adding some facial hair to your look. A beard or mustache can help balance out your long hair and give you a more masculine appearance. Make sure to keep your facial hair well-groomed as well, as an unkempt beard or mustache can detract from your overall look.
Think about your clothing and accessories. Choosing more masculine clothing, such as leather jackets or boots, can help balance out your long hair and give you a more masculine appearance. Avoid wearing overly feminine accessories, such as jewelry or scarves, as these can detract from your overall look.
Styling Tips for Long Hair Masculine
Long hair can be a great way to showcase your masculinity, but it can also be challenging to maintain and style. Here are some tips to help you achieve a masculine look with your long hair.
Products to Use
Look for products that are specifically designed for long hair, such as a high-quality shampoo and conditioner. These products will help keep your hair healthy and strong, which is essential for achieving a masculine look.
Other products to consider include styling wax, pomade, and gel. These products can help you create a variety of styles, from slicked-back hair to messy, textured locks. Experiment with different products to find the ones that work best for your hair type and desired style.
Tools to Use
Techniques to Try
Finally, there are several techniques you can try to achieve a masculine look with your long hair. One popular technique is the slicked-back style, which involves using a styling product to slick your hair back away from your face.
Another technique is the messy, textured look, which involves using a styling product to create a tousled, textured style. This look is perfect for those who want a more relaxed, casual style.
Maintaining Healthy Masculine Long Hair
Long hair requires special care to keep it looking healthy and masculine. With the right washing and conditioning routine, trimming and cutting schedule, and protection from damage, you can maintain your long locks with ease.
Washing and Conditioning
To keep your long hair looking its best, it's important to wash and condition it regularly. Use a gentle shampoo that won't strip your hair of its natural oils, and follow up with a nourishing conditioner to keep your hair soft and manageable.
When washing your hair, be sure to massage your scalp to stimulate blood flow and promote healthy hair growth. Rinse thoroughly to remove all product buildup, and avoid using hot water, which can damage your hair.
Trimming and Cutting
Regular trimming and cutting is essential to maintaining healthy long hair. Schedule a trim every 6-8 weeks to keep your ends from splitting and to prevent breakage. If you're growing your hair out, be sure to communicate your goals with your stylist or barber to ensure they're cutting your hair in a way that will help you achieve your desired length.
Protecting from Damage
Long hair is more prone to damage, so it's important to take steps to protect it. Avoid using hot tools like straighteners and curling irons, which can cause heat damage. If you must use these tools, be sure to use a heat protectant to minimize damage.
In addition, be gentle when brushing and styling your hair to avoid breakage. Use a wide-tooth comb or a brush specifically designed for long hair, and avoid pulling or tugging on your hair.
FAQ
---
If you liked this blog post about the topic: Long Hair Masculine, don't forget to leave us a comment down below to tell us about your experience with it and follow us on Pinterest.