In this article, I will serve as your go-to guide for exploring the best pieces of men's European fashion. I will show you my favorite pieces, every man should own. Whether you're looking to overhaul your entire wardrobe or simply find a few key pieces to add a bit of continental flair to your ensembles, I've got you covered.
Top 20 Men's European Fashion Items
European men's fashion is renowned for its elegance and sophistication, and thanks to these top 20 fashion items, you can easily upgrade your wardrobe to showcase a genuinely pan-European style.
Well-tailored Suit
Opt for classic colors like navy, charcoal, or black. A perfectly fitted suit is a must-have in any European man's wardrobe.
Crisp White Shirt
A versatile piece that can be dressed up or down. Look for high-quality fabrics and pay attention to the fit.
Chelsea Boots
Simple, stylish, great way to boost your casual outfits when it's getting cold.
Slim-fit Jeans
Keep it casual but trendy with slim-fit jeans, preferably in classic blue or black.
Chinos
These versatile pants are great for casual and semi-formal occasions.
Classic Trench Coat
A timeless piece that adds sophistication to any outfit.
Wool Overcoat
Stay warm and stylish during the colder months with a well-fitted wool overcoat.
Bomber Jacket
This casual jacket adds a touch of modernity to your wardrobe.
Knit Sweater
Cozy up in style with a high-quality knit sweater, preferably in muted or neutral colors.
Vest
Perfect for European spring or autumn, when it's already a bit cold outside but too early for the big warm winter jacket. I love these times because I can wear my woolrich vest!
Sandals
Sandals are a great option during summer times.
Leather Jacket
A wardrobe staple for adding edginess and attitude.
Blazer
A versatile piece for dressing up casual outfits or adding flair to formal wear.
Loafers
Complement your outfits with the ultimate smart-casual footwear. Perfect for casual summer outfits.
Oxford Shoes
Classic, elegant, and perfect for formal events. You definitely need to own a pair!
Canvas Sneakers
Minimalist sneakers with a clean design for a casual, yet polished look.
Turtleneck Sweater
Perfect for cold & rainy days, very cozy and good-looking.
Shirt with Troyer or Sweater
I love this look! That's a simple outfit to look super dressed.
Pocket Square
Add a touch of flair and finish your suit with a stylish pocket square.
Sunglasses
Protect your eyes and look effortlessly cool with cool sunglasses.
Leather Belt
A high-quality leather belt in black or brown to complete your outfits. The simplest way to complete your outfit.
Watch
Accentuate your look with a timeless watch. My daily watch is the Tissot PRX, which comes in different colors. Not to expensive, but very classic and high quality!
Key Elements of Men's European Fashion
Fit and Tailoring
One of the most important aspects of men's European fashion is the impeccable fit and tailoring. European style emphasizes well-fitted garments that accentuate your body shape, making you look sharp and polished.
So, invest in tailored pieces that hug your body without being overly tight. Don't be afraid to visit a local tailor to get the perfect fit for your clothing items.
Accessories
Accessories are essential to complete a European-inspired wardrobe. Think minimalistic, high-quality pieces such as a sleek watch, a leather belt, or silk pocket squares for suits.
Less is more in Men's European fashion. Stick to classic designs, and avoid anything too flashy. A simple watch or a tie that complements your outfit adds the perfect touch.
Footwear
A well-curated shoe selection is vital in men's European fashion. Invest in versatile, well-crafted shoes that will last and elevate your overall style.
Classic options include brogues and loafers, but don't be afraid to experiment with contemporary styles like minimalist sneakers or Chelsea boots. Ensure that your footwear is polished and in excellent condition to maintain the sophisticated European aesthetic.
Color Palette
European style is characterized by its understated color palette. Opt for neutral tones like black, white, beige, gray, and navy blue. These colors not only create an elegant, minimalist and masculine look but also allow you to mix and match your wardrobe efficiently.
Make sure your outfit is matching your personality, so if you want to be a modern gentleman, we got 15 Tips to create a masculine outfit as a men.
Major Brands in Men's European Fashion
High-End Brands
Kiton and Cesare Attolini are Italian brands synonymous with luxury and unparalleled craftsmanship. Known for their bespoke tailoring, these brands set the standard in high-end mens European fashion.
Private White V.C. is a British brand revered for its handcrafted outerwear made with locally sourced fabrics. Their clothing comes with lifetime repair services, ensuring lasting quality.
Premiata and Boss (Hugo Boss) are notable for their sleek designs, offering stylish shoes and suits perfect for special occasions and professional settings.
Affordable Brands
For wardrobe essentials that won't break the bank, Scandinavian brands like KnowledgeCotton Apparel and Tiger of Sweden are worth checking out. Their designs emphasize minimalism and sustainability, without sacrificing style.
Another affordable option is Komodo, a UK-based brand committed to eco-friendly and ethically produced fashion. Their collections feature timeless pieces that embody a laid-back, easygoing aesthetic.
Current Trends in Men's European Fashion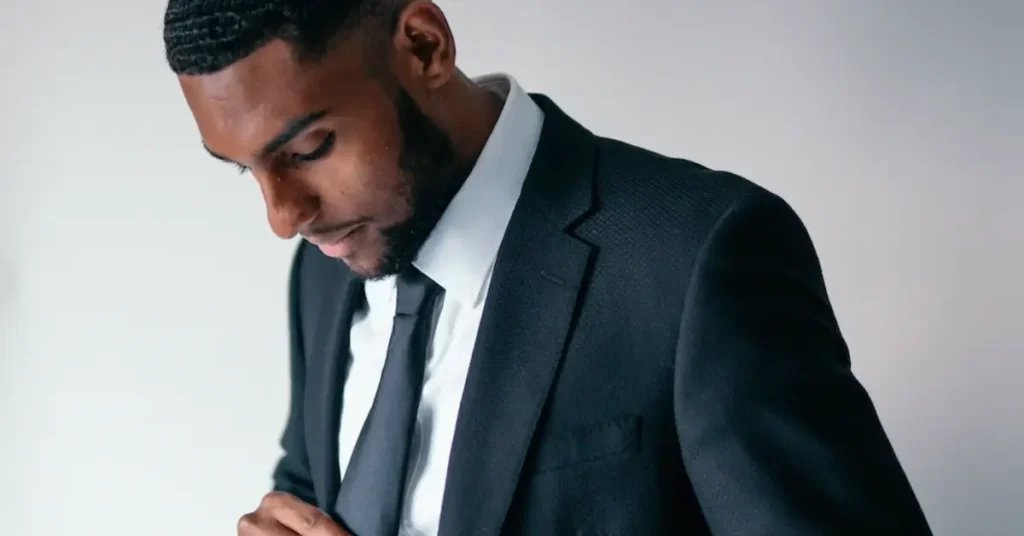 One can't-miss-trend is biker-inspired clothing, which is evident in many Spring-Summer 2023 collections. Leather jackets, boots, and accessories are becoming staples in many wardrobes. Pairing these with more casual items, like denim or even floral prints, creates a bold, yet approachable look.
Speaking of denim, full denim outfits are making a strong comeback. Designers are playing with various shades and textures to achieve head-turning looks. Experimenting with different combinations will allow you to express your personality while staying on-trend..
Cargo pants are also gaining popularity. Their practicality, combined with a variety of colors and styles, makes them a versatile addition to any wardrobe. Pair them with a simple tee or dress them up with a stylish blazer to achieve your desired look.
Old Money Fashion for men is also very popular at the moment. In a world where you see fast fashion and ever-changing trends, old money men's fashion remains a steadfast testament to good taste and refinement.
FAQ
Do Europeans dress casually?
Yes, Europeans dress casually but often with a polished, tailored edge. Their casual wear typically emphasizes fit and quality, leaning towards classic, timeless pieces rather than overtly trendy items.
What is a typical European outfit?
A typical European outfit for men includes tailored trousers or chinos, a well-fitted shirt or polo, leather shoes or clean sneakers, and a light jacket or blazer. Accessories might involve a leather belt, watch, and perhaps a scarf for colder months. Neutral colors are preferred. Casual yet polished is key.
How do I not stand out in Europe?
To blend in with European fashion, opt for neutral colors and classic styles. Avoid loud patterns, logos, or overly casual wear like sporty sneakers. Prioritize tailored fits and invest in quality over quantity. Wear comfortable, understated shoes for walking.
Which country has the best men fashion?
Italy, especially Milan, is often considered a hub for men's fashion due to its tailored suits and luxury brands. Paris, France, is noted for sophistication, while London, UK, offers a blend of tradition and modernity.
---
If you liked this blog post about the topic: Men's European Fashion, don't forget to leave us a comment down below to tell us about your experience with it.